Axom features contemporary visual art from emerging and established artists from the Upstate, Western New York and Finger Lakes Regions. We  provide an eclectic continuum of rotating exhibitions which offer our customers and collectors an in-depth understanding of each artists work.
The Gallery at Axom Home Presents
AERIAS
Views from 1000 feet 
 A Collection of Aerial Art Photography
 by Artist
JOHN GRIEBSCH
Exhibition on View from:
February 3, 2023 – April 15, 2023
 Plowed Fields, near Blanchester, Ohio, USA| 29″ x 39″ 
Views From 1000 feet
My aerial photographs present a sense of selective design applied to an extremely small and specific area of the vast landscape over which I fly. I find the need to make geographical sense of the earth, as well as the need to make visual sense of the photograph.
I work with ambiguity of scale, the graphic quality of nature and with the hand of man upon the landscape. My images have an abstract and often painterly quality. They are at once factual and interpretive.
Familiar landscapes take on a fresh context when airborne. The images require the confluence of several factors. There is the subject – a minuscule segment of landscape that has captured my interest due to its sense of pattern, order or disarray. There is the essential contribution of light. There is the position and altitude of the airplane, and there is a need to capture the stillness and composition of the moment while moving over the subject at more than seventy miles per hour.
My earliest aerial photographs were of ice and farmland, made close to home. The scope of the work opened up on solo flights across the continent in my vintage Cessna 170B. Those flights are made to find  images of landscapes on a grander scale as well as unfamiliar opportunities to find images that take in a small detail.
In my most recent work I've discovered what might be regarded as historical or documentary themes – some of the images of factories and quarries present  relics of the country's industrial past, while my newer images of the landscape and agriculture denote changes in the scale of farming and open space.
I started photographing when I was twelve years old. My father taught me to fly when I was fourteen years old. Before taking off on my first solo flight, he admonished me not go out of sight of the airport. I was soon out of view yet from where I was, the airport was always in sight. Such are the perceptions of the airborne photographer.
John Griebsch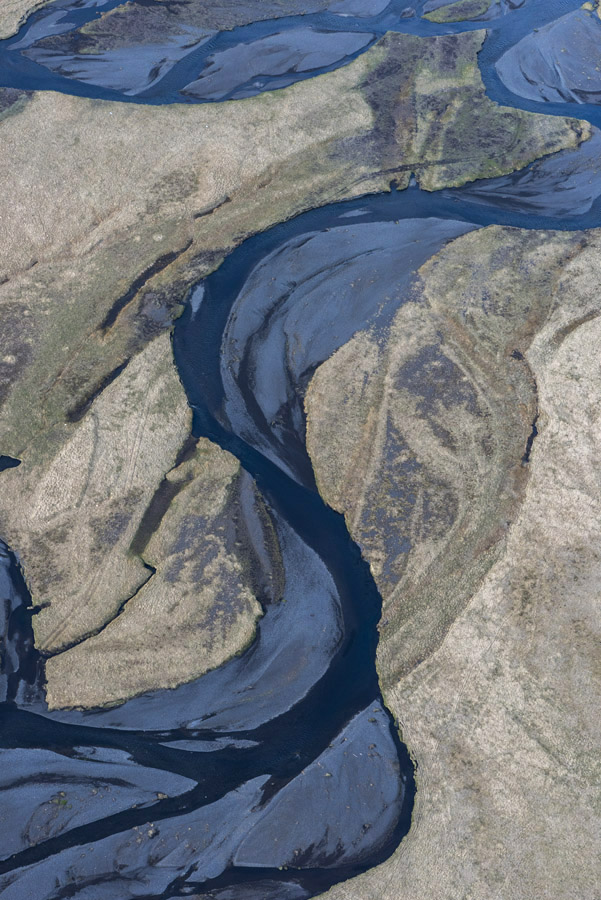 Iceland Rivers, Suderland, Iceland | 29″ x 39″ 
Axom Gallery and Exhibition Space reviews artists proposals on an ongoing basis. We accept submissions for two and three dimensional works, new media and installation. All submissions are reviewed for possible solo exhibitions and group exhibitions. If you do not receive your proposal materials back within three months of your submission it is because we would like to keep the submission on file for future reference. Materials will only be returned at this point if specified in submission with self-addressed stamped envelope. Please note that we are not responsible for any materials that are sent to us. AXOM also accepts submissions by email via info@axomgallery.com
If you are working on a body of work that is not complete or not begun, but you would like to submit for a show in the future, please send images of previous work that show your quality and aesthetic and include a written proposal and sketches (if available) that represent the proposed body of work for submission.
Our region has a wealth of talented artists who create original high quality work. Axom home is unique because we actively explore the connection between Art and Design and the vibe that is created when they visually intersect.
With each exhibition, we enjoy mixing the artwork and with our modern furniture and carefully crafted solid wood case goods to create inspiring room vignettes.
Sign up for our news letter below or follow us on instagram to get the latest news on our carefully curated, revolving collection.
Some artist that have been featured in the past can be seen below.