Axom features contemporary visual art from emerging and established artists from the Upstate, Western New York and Finger Lakes Regions. We  provide an eclectic continuum of rotating exhibitions which offer our customers and collectors an in-depth understanding of each artists work.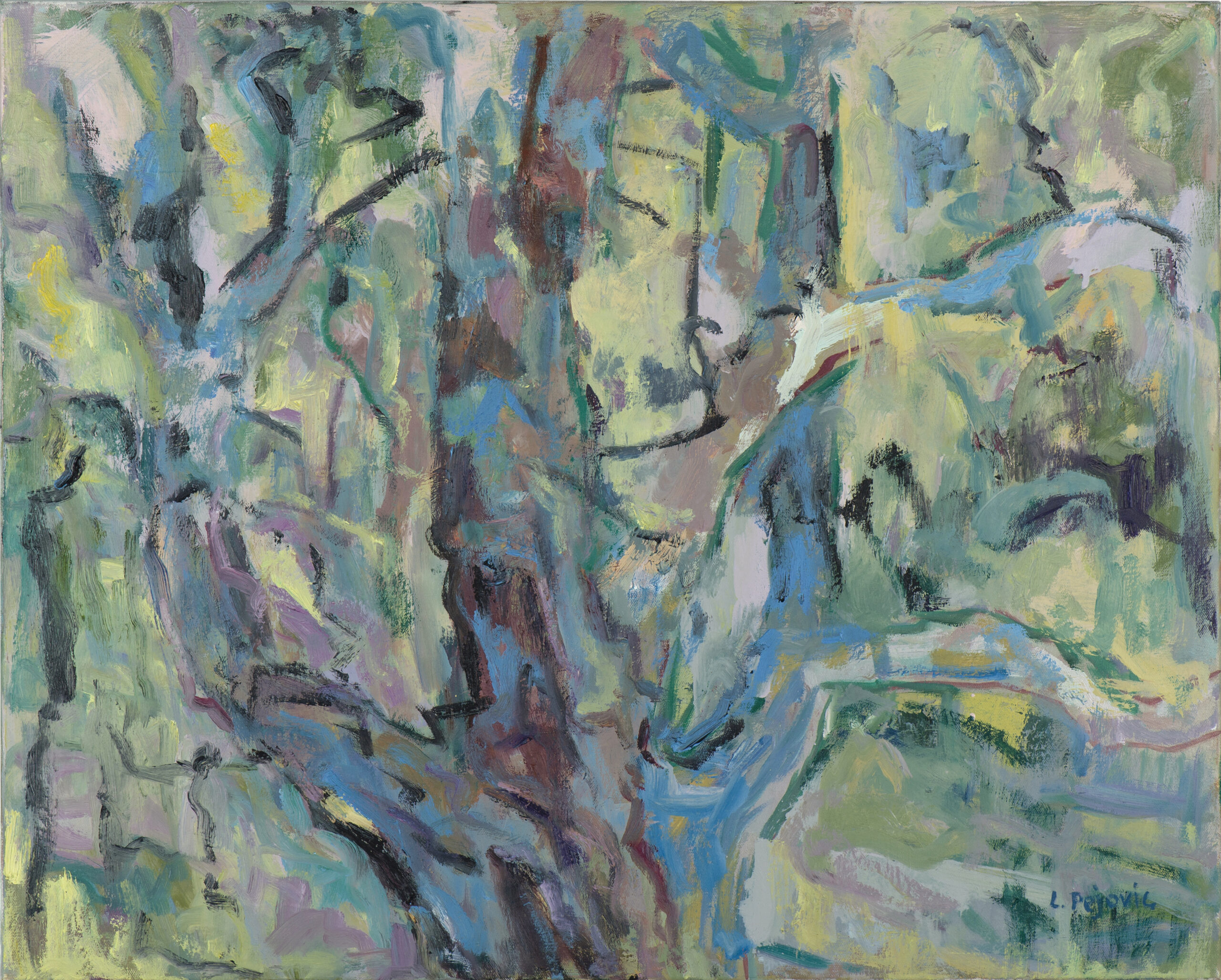 Greetings, Friend | Oil on Canvas | 2020 | 24″ x 30″
The Gallery at Axom Home Presents
THE WOODED LANDSCAPE
Paintings by
LANNA PEJOVIC
October 5 – November 27, 2021
RECEPTION | October 30 at 5:00pm
Conversation with the artist at 5:30pm
The motifs for my paintings mostly come from the landscape I can experience on a continuous basis and the place I have taken much inspiration from recently is a walking path by the creek in my village.  You enter this path through a break in the trees just off the main road and as you step in you find yourself descending into a light and shade dappled, textured world populated by many tall trees.  The village is removed enough that you feel you are in a world apart from the everyday.  The ground is uneven and slopes down on the left toward the creek, which meanders closer and farther and again closer to the path until you are alongside of it.  The light and wind dance all around you.  Birdcalls give a sense of being in an aviary, while the sound of the creek is almost always present. Progress on the path is linear with trees shading your way and keeping time for you as you walk along.  The seasons, weather and time of day create varying moods.
Landscape is a multisensory, multidimensional experience for me and this path has provided me with a rich set of sensory details to work with in forming a visual expression that has the quality of a lyrical composition.  The patterns and repetitive character of music is analogous to what I like to do in painting; compose the shapes and colors in a way that emphasizes the rhythm and movement that I experience in nature.
 Chords for a Rainy Day | Oil on Canvas | 2021 | 28″ x 22″
Our region has a wealth of talented artists who create original high quality work. Axom home is unique because we actively explore the connection between Art and Design and the vibe that is created when they visually intersect.
With each exhibition, we enjoy mixing the artwork and with our modern furniture and carefully crafted solid wood case goods to create inspiring room vignettes.
Sign up for our news letter below or follow us on instagram to get the latest news on our carefully curated, revoling collection.
Some artist that have been featured in the past can be seen below.